Become a professional
XR Designer and land your dream job! 💎
Are you looking for a new and exciting opportunity?
XR Designers are on the rise. After finishing this course you have mastered the essential skills and built your XR portfolio to land your dream job!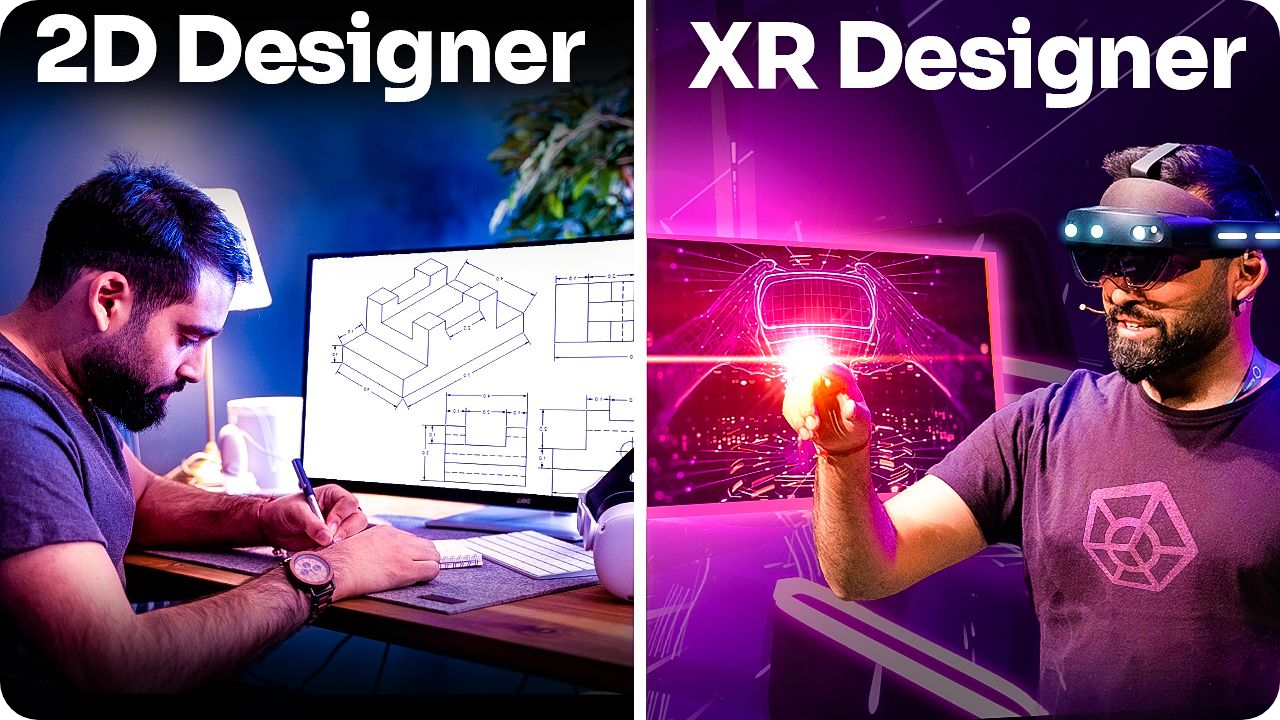 Getting into XR as an aspiring Designer is tough!
❌ No clear roadmap

❌ Lack of 3D skills and tools

❌ Lack of experts and mentors

❌ Certification programs are expensive

Educator, Public Speaker, and Content Creator
LEARN FROM INDUSTRY EXPERTS
Meet your instructor
Dinesh Punni has been eating, drinking and breathing immersive technologies (Augmented Reality, Virtual Reality) for more than 7 years now. Today, he uses his experience to pave the way for upcoming professionals by teaching them how to create immersive experiences on his YouTube channel and immersive insiders, his online education platform.
OFFicial partnership with
ShapesXR
"We are happy to have immersive insiders as our official education partner. We decided to team up because immersive insiders offers the complete package to kickstart and accelerate your career into XR design. They know our software in-and-out and have been an amazing partner since the beginning. This course will teach you everything you need to know and the right tools to get a job as an XR Designer"
HAPPY USERS and partners
You're in good company
I've learned more about AR with Dinesh than on any other learning platform out there. He goes through every step of the process with details, covering all sorts of trial & errors. I really enjoy his enthusiasm and dedication. One of the best workshops at an affordable price!

Juan Carlos Ferrá
immersive insiders student
Dinesh is a true veteran in the XR world. Professional, responsive and with a strong vision for where the industry is going. If you are serious about your commitment to the XR ecosystem you would absolutely consider "Immersive insider" as a partner.
Gabriele Romagnoli
Head of Community at ShapesXR

immersive insiders is so far one of the best platforms to get started with XR.
I 100% recommend to follow and buy the courses as they keep on updating contents in an organised way.
Praveen B
immersive insiders student
Thank you for this great class. I am impressed with our lecturer and the knowledge he has in XR hand tracking. I tested out several XR classes online and this was one of the best. Cheers to all developers who are creating excellent experiences!
Bebette Ryan
immersive insiders student
Here's an overview of your curriculum
Choose the plan that suits you the best
XR Design Course only
SINGLE PURCHASE
Lifetime access to the course

Access to Resource Library

Access to project repository

Certificate of completion included
immersive insiders
MEMBERSHIP
Access to all courses

Access to all project repositories

Access to private Discord channel

Access to Resource Library

Certificate of completion included

Cancel anytime
All membership benefits plus:

Intense 1 on 1 coaching

Custom project support

High priority email support

Cancel anytime
Guaranteed Security using one of the most advanced encrypted systems on the market.
The information in this page is being processed and encrypted securely using industry-leading encryption and fraud prevention tools.
Even more happy users! 👏🏽
You should take this course if ...
You want to design immersive experiences
Immersive experiences are the future of computing! We will move from a 2D rectangular human-computer interaction to a 3D one. We're 3D creatures after all ;)
You want to pioneer this upcoming industry to become one of the best
Imagine you became an App developer back in 2008 just when the App store launched.. well, the opportunity is missed and today there are more than 10 million apps on the App store. The same is happening for XR now, so don't miss out on this one!
You want to grow your XR network


Your network is your net-worth. No one creates something great alone. We all need other people to complement us. By joining our membership you also become part of your community. Here you could meet your next friend, co-founder, employer or investor.
You shouldn't take this course if ...
You can't adapt to new concepts
Immersive design is a complete new field and many things are just being discovered and still figured out. This is an amazing opportunity for you to shine and pinoeer this field.
You expect everything to be free
While most of my content if free on YouTube, there are still bills to be paid and food to be brought on the table. Add license, staff, and server costs to it and you see where this is going. If you don't want to pay anything, no worries. YouTube has good content too.
You expect everything to be perfect
Immersive technologies (AR/VR) are in a state of rapid change. That means that things that are valid today could be obsolete next month. This is just the nature of our industry. We will regularly update our courses to keep them up-to-date but be open for an exciting ride ;)
Why XR is worth the hype
XR is an umbrella term, covering both AR and VR
Major companies are investing heavily in XR
"VR and AR have the potential to add $1.5trillion to the global economy by 2030."

Source: PwC "Seeing Is believing" report, 2019
Job listings are growing like crazy right now
Did you know that nearly 20% of Meta's employees are working on Virtual and Augmented Reality?
Immersive tech (XR) is the future of computation
XR will add a new dimension in how we interact with digital information. In the future, our physical world will merge with our digital world.
Very open-minded and supportive community
We're all in this together. We all want this young, new industry to grow. We are a community of enthusiasts and pioneers.
Any doubts?
Find the answers to all your questions.
What tools and SDK's are we going to use during this course?
We will use ShapesXR for this course. They are the best when it comes to XR prototyping
Do I need special hardware?
You only need a PC since this course also teaches you how to use the VR simulator.
However, I highly recommend to get one of the Meta Quest 1/2 or the Meta Quest ProThe course is not made for devices which are officially shut down:
Google Cardboard
Samsung Gear VR
Oculus Go
What are the prerequisites?
There are no prerequisites required. Just a burning passion to create amazing immersive experiences 🔥
You have the power to create your reality.
Created with